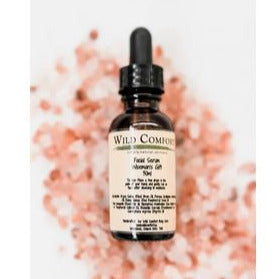 Wiseman's Gift Facial Serum
Regular price
$24.00
$0.00
Unit price
per
Our oil-based serum that is not oily, leaves your skin silky. Each ingredient is selected for its incredible properties in fighting against the signs of aging and irritation.
· Rice Bran Oil has deep moisturizing capabilities yet is a light with a dry feel. It helps to firm and tighten skin reducing the appearance of fine lines and wrinkles. It is known to brighten the look of skin and reduces the appearance of age spots and smooths out skin tone.
· Avocado Oil nourishes and moisturizes the skin and supports healing of skin
· Rose Hip Oil is a hydrating oil that goes on dry. It is high in both vitamin A and C which encourage cell regeneration and helps boost collagen formation by inhibiting the creation of enzymes that break it down. It helps to reduce inflammation and may calm irritation resulting from some skin disorders. One of the amazing properties is its ability to reduce hyperpigmentation reducing the appearance of age spots.
· Red Raspberry Seed Oil is an effective anti-inflammatory oil and helps to improve the elasticity of the skin. As part of its fatty acid profile it has Ellagic Acid which is an antioxidant and reduces the destruction of collagen. It contains phytosterols which help reduce water loss and aid in repairing sun damage. There is one study that shows that it absorbs UVB and UBC and limited absorption of UVA making it a possible protector from sun damage.
· Sea Buckthorn Oil is a beautiful golden colour and is known for its rejuvenating properties. It has 12 times more vitamin C than an orange. Vitamin C helps to reduce signs of aging such as wrinkles and age spots. This oil promotes skin health by improving hydration and elasticity.
· Frankincense Essential Oil is known for its many benefits including benefits for the face. It is a great oil for tightening and firming the skin which aids in reducing the appearance of fine lines and wrinkles. It is a skin re-generator and minimizes the appearance of age spots. In addition to the skin benefits it also is known to help with concentration and low mood which influence aging.
· Myrrh Essential Oil is known as a skin re-generator and aids in fading unwanted blemishes and smooths out skin. 
· Vitamin E aids in extending the life of the oils and their benefits. It also has its own benefits in aiding in protecting the skin from free radical damage.
Ingredients: Oryza Sativa (Rice) Bran Oil, Persea Gratissima (Avocado) Oil, Rubus idaeus (Red Raspberry) Seed Oil
Rosa mosqueta (Rose) hip oil, Hippophea rhamnoides (Sea Buckthorn) oil, Tocopherols (vitamin E),  Boswellia Carteri (Frankincense) Oil. 
Commiphora myrrha (Myrrh) Oil
---