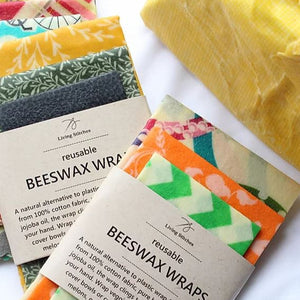 Beeswax Food Wraps
Regular price
$27.00
$0.00
Unit price
per
Beeswax Food Wraps are a natural alternative to plastic wraps & baggies! They are simple to use and cling with the warmth from your hands. Beeswax is naturally antibacterial, and therefore keeps food fresh for a long time, whereas plastic encourages food spoilage. Wrap cheese, produce, and sandwiches, or cover bowls or large produce chunks.
Made from 100% cotton fabric, local sustainably sourced beeswax, jojoba oil, and food safe pine resin.
Random mixed print sets. Other sets will be added as available.
PRODUCT INFO

Each set includes 3 wraps:
1 - 8x8"
1- 10x10"
1-13x14"

To wash, simply rinse with COOL water and rub gently with a soft cloth. If needed, add a drop of mild dish soap to cleanse. DO NOT use hot water as this will melt the wax.

Do not use wraps for raw meat as they can not be washed with hot water.
---